Christina D. Lost 67 Pounds and Has Energy for Her Goals*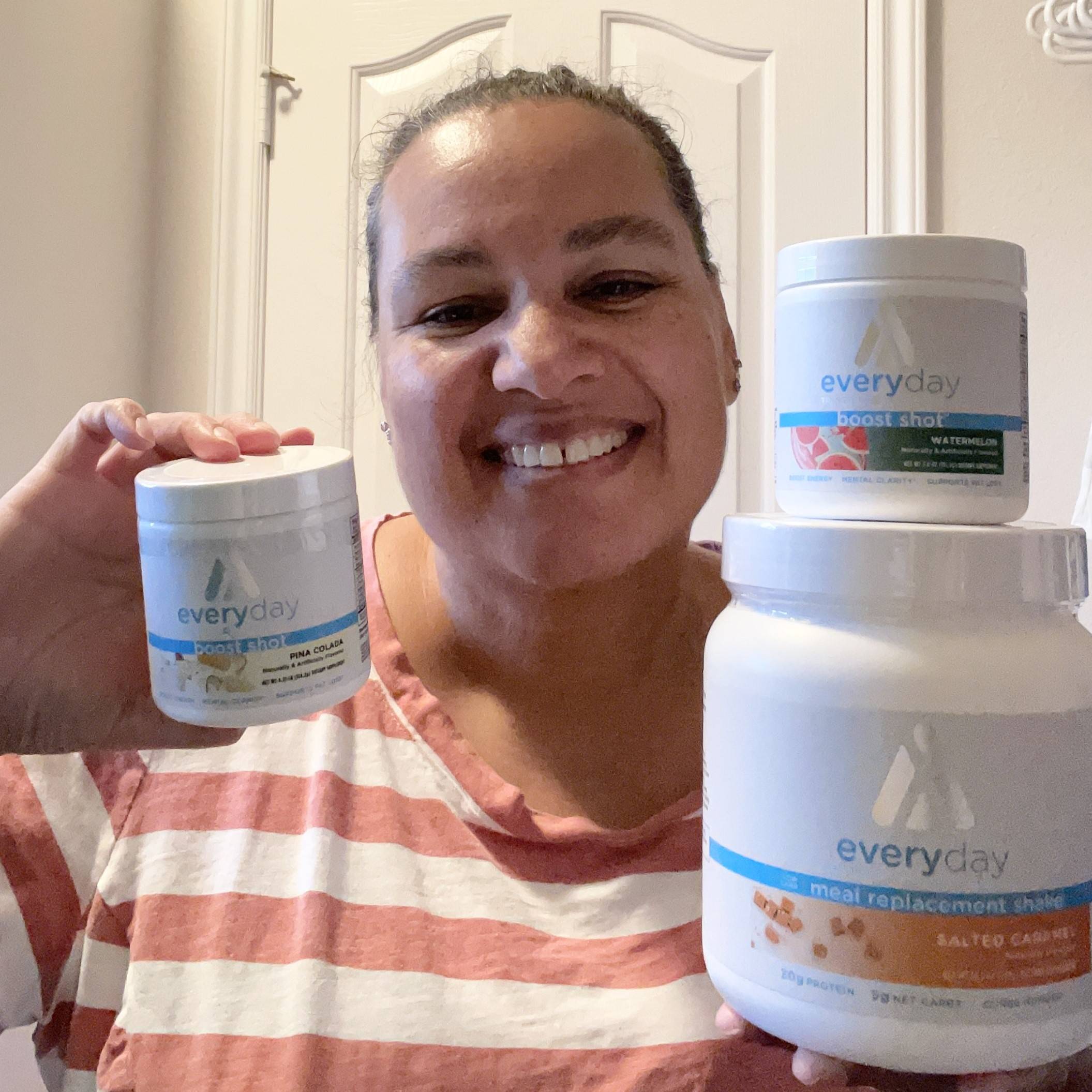 "[Boost Shot] has been able to help me focus on what my goal is: getting the calories down but still having energy throughout the day to be able to hit my other exercise and nutrition goals."

We talked to Christina about her personal transformation story. Here is what she said!
Before purchasing TransformHQ supplements, what was your biggest challenge in your transformation journey?
Energy.
The mid afternoon was always a really hard time for me.
I am not a coffee drinker so drinking that was never an option.I also knew drinking sodas would not help me with my transformation journey.
So when I first tried boost and it worked and I got energy I knew I was hot!
How did that challenge you just described make you feel?
I didn't think I would be able to have the energy to be able to work out, stay focused throughout the day, and be able to stay away from any of the caffeinated soda drinks.
I knew they were high in calories and I also don't like coffee so I wasn't sure what I could do to be able to have some energy throughout the rest of the day without turning to high calorie sodas.
After purchasing TransformHQ supplements, what specific changes and results did you experience?
After purchasing Boost Shot, I no longer drink any soda drinks or high calorie mixed coffee drinks.
Also, trying the Boost Shots and liking them made me wanna try other things with TransformHQ.It also did make me feel left out when people would go to the coffeehouse and sit and talk or if someone would go to the fast food line and get a large soda.
I especially like the travel boost packets because I can always have them on me and I like their flavors a lot better than the other drinks that I was getting.
So that temptation is no longer there.It's been able to help me focus on what my goal is: getting the calories down but still having energy throughout the day to be able to hit my other exercise goals and nutrition goal.
What would you say to somebody on the fence about purchasing TransformHQ Supplements?
I would tell them to try it and see if they like it.
Because that's the only way you will find out if you really like it.
But I really like it a lot and I am very picky when it comes to any of my supplements.
Because I want flavor. I don't want to feel like I'm missing out on taste just because I'm trying to be healthy.
I would say try it because what would it hurt.
Just take the money normally used to go to Starbucks for a week and put it towards a Boost Shot. If you like it, it could save you the whole rest of the month of going through and sitting in the Starbucks line.
Anything else you'd like to share?
I also absolutely love the meal replacement shakes.
I am a big ice cream person and that was my biggest challenge when it came to food for my weight loss transformation.
Having so many different flavors and different options to be able to make a smoothie has been a big game changer for me.
As of right now, I have lost 67 pounds and I can say a lot of it has been because of being able to get myself off of ice cream.
I don't feel like I'm missing much because the meal replacement shakes are so creamy and so good that you can turn it into a smoothie with fruit or you can freeze it.
My craving for ice cream is now under control.
Ready to Boost Your Energy?
Every transformation begins with a first step, and this is yours!Our Boost Shot was formulated with a unique, no crash formula that gives you instant AND sustained energy with zero sugars and zero calories!And to help you get started, we're offering you the most affordable way to boost your energy and accelerate your transformation and weight loss goals!?
✅ 56 Servings of Boost Shot
✅ Unique instant AND sustained energy-boosting formula
✅ 16 Available Flavors
✅ Nootropics to help increase concentration
✅ Packed with B vitamins
*Results may vary depending, in part, on starting point, motivation, and commitment. Always consult your physician before beginning any weight loss program. Participants may have used more than one TransformHQ product to achieve their results.